Using high-quality, durable, non-toxic, and well-performing cookware is desired by every home and professional chef. But, if you do not know about cookware materials, you cannot buy a well-performed cookware set. Both Lagostina and Le Creuset products are made according to the demands of the users. But there are slight differences that are discussed in this comparison article.
Comparison Table: Lagostina vs. Le Creuset Cookware
| Feature | Lagostina | Le Creuset |
| --- | --- | --- |
| Material | Stainless steel, aluminum, copper | Enameled cast iron, stainless steel, ceramic |
| Induction Compatibility | Yes (some lines) | Yes (most lines) |
| Oven Safe Temperature | Varies by product line (typically up to 500°F) | Varies by product line (typically up to 500°F) |
| Dishwasher Safe | Yes (some lines) | Yes (most lines) |
| Non-Stick Options | Yes | Yes |
| Warranty | Limited Lifetime Warranty | Limited Lifetime Warranty |
| Price Range | $$ – $$$ | $$$ – $$$$ |
| Country of Origin | Italy | France |
Lagostina Cookware: A Short Review
The Lagostina Company was founded in 1901 by an Italian father and son. After starting the cookware company, they were dedicated to making high-quality pots and pans.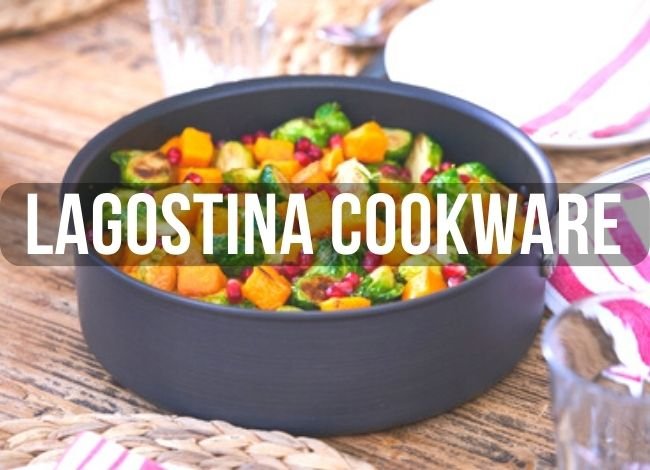 If you cook with this cookware at a limited temperature (suggested by the manufacturer), it will perform better than many other available ones.
Le Creuset cookware: a short review
Le Creuset was established nearly 100 years ago. At this time, the cookware brand had established an excellent reputation. The cookware is one of the most expensive cookware sets in the world. Generally, the high-quality materials used in the cookware are the main reason for the high price of the cookware sets.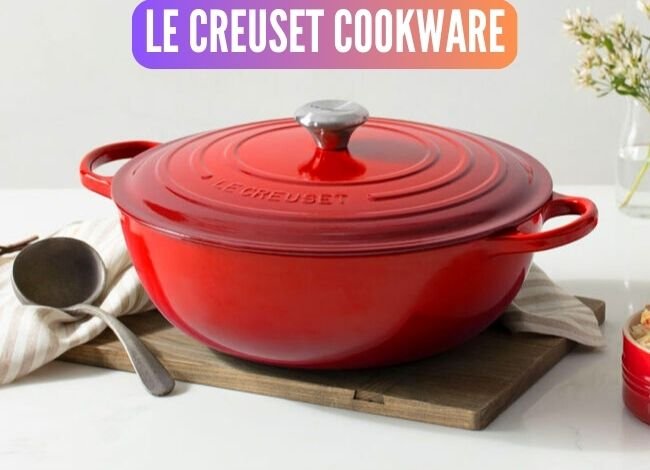 The France-manufactured cookware is available anywhere in the world. Significantly, you can order the cookware set on several online marketplaces, including Amazon.
Lagostina vs. Le Creuset Cookware: Core Differences
When you want to pick the best product considering the quality, outlook, price, and performance, you have to compare several products according to several aspects. Lagostina and Le Creuset cookware sets have several differences. Now, we are discussing them, and you have to determine which features influence your purchase decision.
Difference 01: Oven Safety
If you compare Lagostina cookware and Le Creuset according to the features of oven safety, Le Creuset will always be in the lead. It is oven safe up to 260 degrees Celsius, which is 500 degrees Fahrenheit. On the other hand, the oven safety of Lagostina cookware is comparatively low. If you want to use Lagostina cookware in an oven, you must keep the temperature under 175 degrees Celsius, which is 350 degrees Fahrenheit.
Difference 02: Price Range
Both Lagostina and Le Creuset cookware sets are expensive. But the price range of Le Creuset cookware sets is much more expensive.
Lagostina cookware set's price range is from $100 to $300. On the other hand, the expensive and famous Le Creuset cookware set's price is more than $500. Even so, the price of some of the largest Dutch ovens reaches up to $1000.
The price range of the Le Creuset Dutch oven has an extended variety. The price of the Dutch ovens starts at $155 and goes up to $400.
Difference 03: Material Type
Lagostina pots and pans are made of 18/10 stainless steel, which is a composition of stainless steel, chromium, and nickel.
But the material of Le Creuset cookware is totally different. The pots and pans of Le Creuset are made of enameled cast iron.
Cast iron is a material that has more strength than steel.
Matched Features
Lagostina and Le Creuset are different products from different manufacturing companies. But there are some similarities. It is also necessary to discuss them so that you can understand how they are alternatives to each other.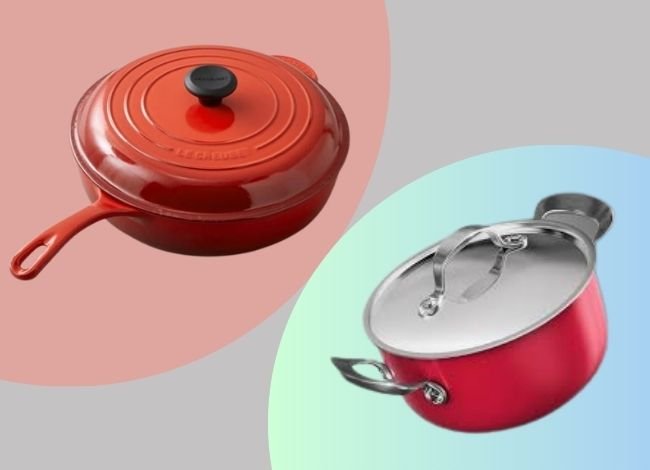 Induction safety
Lagostina and Le Creuset cookware have huge induction-safe pots and pans collections. Generally, the induction pots must have metallic bottoms, which must be magnetic. Lagostina stainless steel pots and pans are suitable for use on almost all induction stoves.
On the other hand, enameled cast iron, stainless steel, and toughened non-stick cookware are safe for use on all induction cooktops.
So, if you think that you have to purchase an induction-safe cookware set, you can select any of them.
Dishwasher safety
Both are dishwasher safe. A dishwasher is necessary for every busy homeowner to wash the pots and pans. Significantly, when you are in a hurry, and there are a lot of pots and pans unwashed in your house, you have to wash them quickly with a dishwasher.
Le Creuset or Lagostina: Which is Better?
After judging the features of Le Creuset and Lagostina, we can easily understand that Le Creuset is better than Lagostina in several aspects. Its material is more trustworthy and oven safe at high temperatures.
The downside is that Le Creuset is much more costly. But you have to admit that if you want a better product, you must pay some extra penny. Le Creuset has not only had a good reputation for a long time but has also improved its performance.  So you must go for Le Creuset because it comes with many advantages.
But if you want an affordable set, Lagostina cookware is also a good choice for you.
Where can I buy the products?
LeCreuset.com and Lagostina.com are the Websites where you can buy that cookware. Moreover, Amazon is another popular marketplace where you can buy any of those at a much more affordable price.