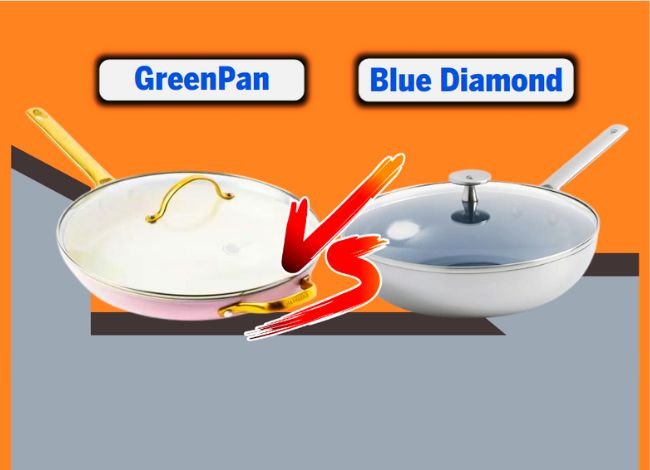 There are various brands of cookware in the world. Every cookware brand manufactures different pots and pans with unique features. Selecting good cookware is a prior task before starting to cook. This article will compare Greenpan and Blue Diamond cookware.
Which is the manufacturing country of GreenPan?
GreenPan is a USA-based cookware manufacturing company. But the pots and pans are also made in China, and they are packed in the USA.
The GreenPan factory is multi-ISO certified. It got ISO 9001 in 2008 and ISO 14000 in 2004. Moreover, all of the factories are under the control of GreenPan.
The GreenPan company is owned by two school friends, Jan Helskens and Wim De Veirman. It was first found in 2007 in Belgium.
Are GreenPan pots and pans safe to use?
GreenPan has a good reputation for manufacturing safer pots and pans than Teflon.
Toxicity is totally absent in GreenPan pots and pans. The company always ensures safe and healthy products.
Which is the manufacturing country of Blue Diamond cookware?
Two countries are related in the manufacture of Blue Diamond pots and pans. The United States is related to the design and engineering of Blue Diamond cookware. Finally, the cookware is manufactured in China.
Who owns Blue Diamond cookware?
"The cookware company" manufactures Blue Diamond cookware. It is located at 94 North Broadway, Irvington, NY 10533, USA.
GreenPan vs. Blue Diamond: Which is Better?
Smart buyers always compare several products to purchase the best one. Several differences in cookware features, including cleaning ease, health safety, price, etc., significantly encourage a customer to find a better product. Now, we are presenting several differences between GreenPan and Blue Diamond cookware sets.
Check Today's Price
PTFE and PFOA
The nonstick coating of GreenPan cookware is free from PTFE (Teflon) and PFOA. So, we can use it as healthy cookware because the surface of the product does not react with your food.
On the other hand, Blue Diamond pots and pans are free from PFOA, but they use a small amount of Teflon.
So, if you want to have both PTFE and PFOA-free cookware, the GreenPan will be the perfect brand.
Durability
The Green Pan manufacturing brand produces a huge amount of durable pots and pans. They last a long time, and you can take the best care of them. They may give you the best cookware-using experience.
But the Blue Diamond cookware sets are not as durable as Green Pan products. So, as a consumer, Blue Diamond may shortly disappoint you. But do not worry; there are many other features of Blue Diamond that attract you.
Heat distribution
Green Pan's heat distribution is totally outstanding. It cooks with even heating and makes the food more delicious.
Blue Diamond's heat-distributing power is good but not as impressive as GreenPan's.
Quickly warping
Blue diamond pots may warp quickly if you don't take proper care of the product. But the GreenPan products are not prone to warping.
Similarities between Green Pan and Blue Diamond
You learned about several differences between Green Pan and Blue Diamond cookware. By observing the features, you can easily understand that Green Pan pots and pans are quite better than Blue Diamond cookware. But if you think you should buy a Blue Diamond pan, that will also be a good decision. There are several similarities between the two products, which are the impressive features of Blue Diamond.
Check Latest Price
Dishwasher safety
The GreenPan products are very easy to clean. Moreover, some of them are dishwasher-safe. But the pots and pans that have wooden handles are not suitable for cleaning in a dishwasher.
On the other hand, some models of Blue Diamond are also dishwasher safe, including the Diamond Infused Ceramic Nonstick 10″ Frying Pan Skillet.
But the best way to keep the cookware safe is to wash it by hand with a non-abrasive cleaner or soap and water.
Easy to clean
The Green Pan pots and pans are super easy to clean. Although they are dishwasher-safe, you do not need to use a dishwasher. The cookware surface is suitable for cleaning with soap and water by hand.
Finally, which is better?
GreenPan is a better cookware manufacturing brand than Blue Diamond, according to its several features. But if you want an affordable one, Blue Diamond will suit you.