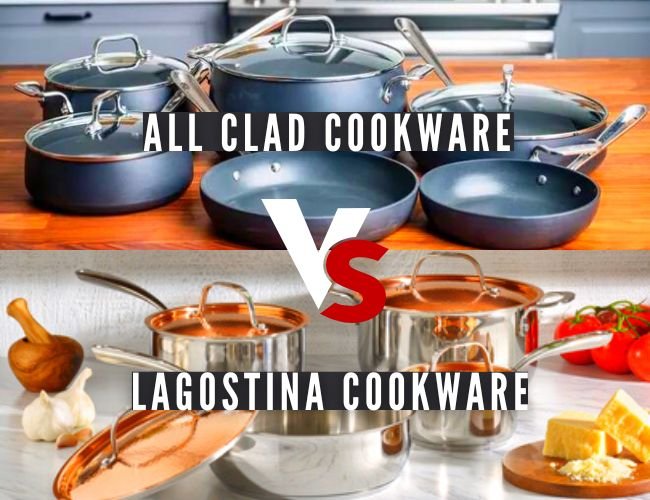 Are you looking for a trustworthy set of pots and pans? There are numerous well-known pot and pan brands throughout the world, and all are endowed with appealing features. But Lagostina and All-Clad cookware are in the top position. There are some differences between them, and here we will discuss them in detail.
All-Clad Offers: Longevity, Heat Resistance, Warranty, and Safety (Check Price)
Lagostina Offers: Affordable, Easy to wash, Non-reactive (Check Price)
Differences between Lagostina and All-Clad cookware
There are several differences between All-Clad and Lagostina cookware sets. As a conscious customer, you have to be aware of them so you can consider the suitable one as your necessity.
Manufacturing country
All-Clad cookware is a USA-manufactured product. Italy is the country where Lagostina pots and pans are manufactured. The Lagostina cookware manufacturing company was first founded in 1901 in Omegna. Lagostina has also earned a big reputation for manufacturing trustworthy pressure cookers.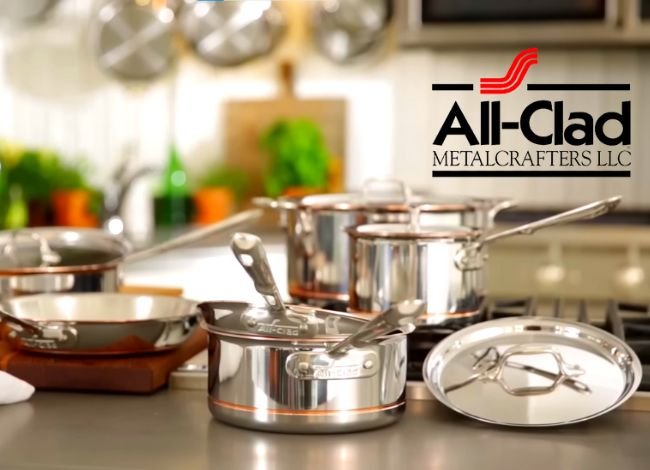 High heat-tolerance
If you want a high-heat cooking experience, you should choose All-Clad cookware. The heat tolerance power of Lagostina pots and pans is comparatively low, and they are suitable for cooking in low to medium heat.
Easy washing
All of the All-Clad cookware sets except the nonstick set are easily washable in a dishwasher. You can also clean the All-Clad pans with soapy water. But if you compare All-Clad and Lagostina cookware sets, it will seem to the user that the cleaning process of Lagostina is easier than that of All-Clad. However, taking care of Lagostina cookware is also easier than taking care of All-Clad pans.
Warranty
All-Clad cookware offers a lifetime warranty. If the cookware's spare parts are damaged due to technical failure, all Clad will be dependable in replacing or repairing them. 
Check Today's Price
But Lagostina does not give a lifetime warranty. The limited warranty for Lagostina cookware is only for the product's spare parts. On the other hand, the warranty of the entire cookware varies from product to product.
Actually, the demand and value of different Lagostina pots and pans determine how long the warranty term should be.
So the warranty service of All-Clad cookware is far superior.
Lagostina and All-Clad pots and pans are made of different materials. They mostly use high-quality 18/10 stainless steel. It is long-lasting and highly recommended for use as a safe material. It can also be used as regular fancy flatware.
All-Clad cookware is made of bonded aluminum. They also manufacture tri-ply and five-ply stainless steel pans.
All-Clad tri-ply cookware is made of two layers of stainless steel, and the core is made of aluminum. The five-ply All-Clad cookware is made of stainless steel, aluminum, and copper. The thick core of the material is made of copper, and the outer layers are made of stainless steel and aluminum.
Compare prices
If you compare All-Clad and Lagostina cookware brands, you will find that Lagostina is less expensive than All-Clad.
So, the more affordable All-Clad pots and pans are, the more people can purchase them. Lagostina is a good brand, and its appealing features attract customers to purchase the brand's products.
Check Today's Price
Final Thought: All-Clad or Lagostina?
All-Clad, a cookware manufacturing brand, got 4.7/5 user ratings. Lagostina's popularity measurement is about 4.5/5.
According to affordability, Lagostina is better because its price is comparatively low. However, when comparing the overall performances of the two cookware brands, including warranty, material, and cooking ease, All-Clad will outperform in several areas.
Undoubtedly, a user who likes American cookware brands must choose All Clad.