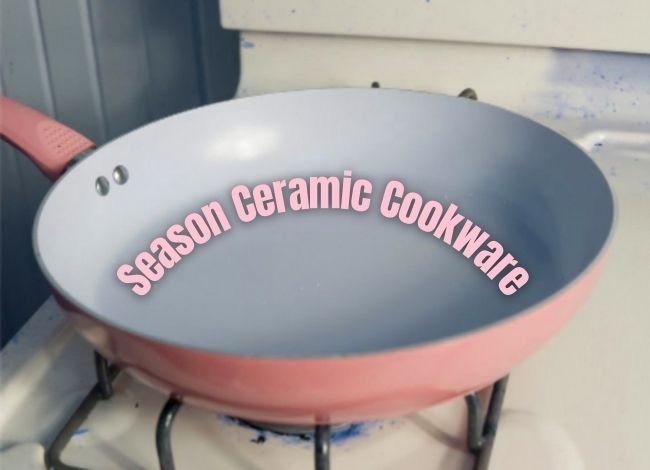 People must season ceramic cookware to make the pan surface smooth and long-lasting. Every cookware user should do this on a regular basis. Unfortunately, several people worry about seasoning the cookware because they believe it is hard. But, seasoning ceramic-coated cookware is an easy task. If you follow some simple steps, you can quickly season ceramic pots and pans.
The Essential Items to Season A Ceramic Cookware
The following things will be enough to season your ceramic cookware. 
An unseasoned ceramic pan

One tablespoonful of cooking oil

A soft cloth/A paper towel

A specific amount of water

A bar of soap
Seasoning The Ceramic Cookware: Step by Step Guide
A ceramic cookware's seasoning process is related to burning a thin layer of oil. The method forms a coating with nonstick properties. After the seasoning, you can remove an extra oil coating that roughs the pan surface.
Step 01:  Clean The Pan
Before starting the seasoning process, you must clean your frypan efficiently. It will remove all the dirt from your pan and make it spotless. Otherwise, the seasoning process will not be perfect.
Pure water and an abrasion-resistant cleaner are a must for this vital task. You can use soap, a sponge, or a soft cloth to complete the first step. Abrasive and harsh cleaners, including brushes, can spoil the outer ceramic surface of your cookware.
Rinse the cookware thoroughly after getting it cleaned. Take a soft cloth and wipe it.
Step 02: Apply The Oil
Oil is a necessary ingredient to season your ceramic cookware. So, put a specific amount of oil on your ceramic pan. Now, spread the oil on the cookware surface. You can use the help of a smooth brush or a paper towel. Spreading oil evenly on the surface allows better seasoning.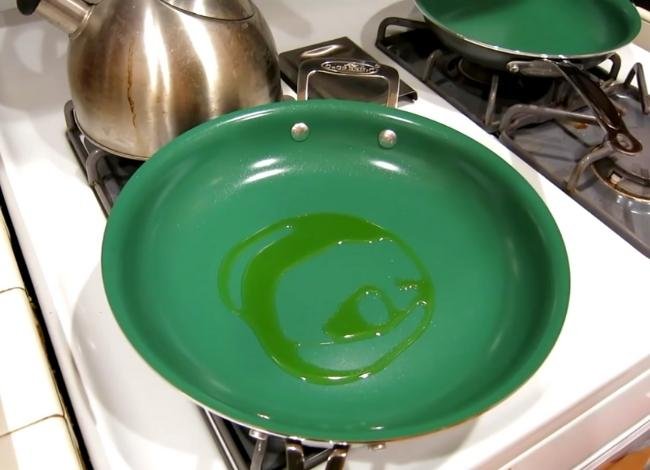 Which oil would be better for a better seasoning? Vegetable oil, canola oil, sunflower oil, etc., are perfect for good seasoning. But, you strongly need to avoid butter, coconut oil, olive oil, and flavored cooking sprays because of their disability in seasoning cookware. They are reliable in causing unpleasant smells from your ceramic cookware. Try to avoid oils with a low smoking point.
Step 03:  Heat The Pan
Now you must heat your ceramic cookware evenly. You can heat your ceramic cookware on a stovetop or inside an oven. Both ways are appropriate to season any ceramic cookware quickly.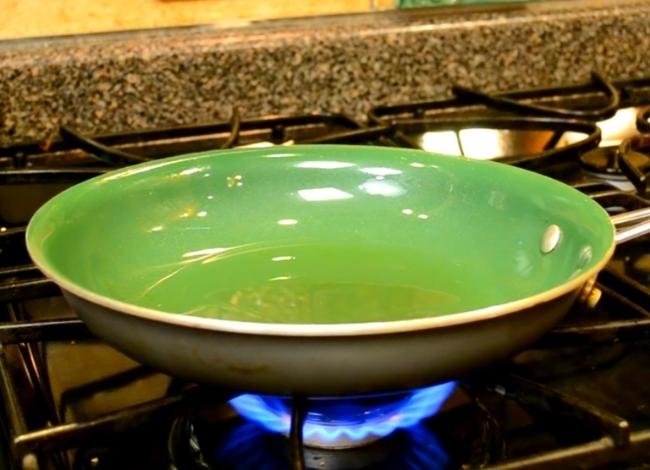 Place your ceramic cookware on a stovetop and turn the heat on. It will heat your pan successfully. The process is essential to seasoning your ceramic cookware. Spread the oil throughout before heating the pan. It will complete the heating process correctly.
A microwave oven is also a solution for heating your cookware during seasoning. Place the cookware inside the range and add a specific amount of oil before placing it. Now, heat the ceramic cookware to the perfect temperature.
Step 04: Cool Down The Frypan
When you notice fumes coming out of the cookware surface, it means the heating process is completed. Now, remove the pan from the stovetop and cool it down to room temperature. But do not try to cool the heated cookware instantly.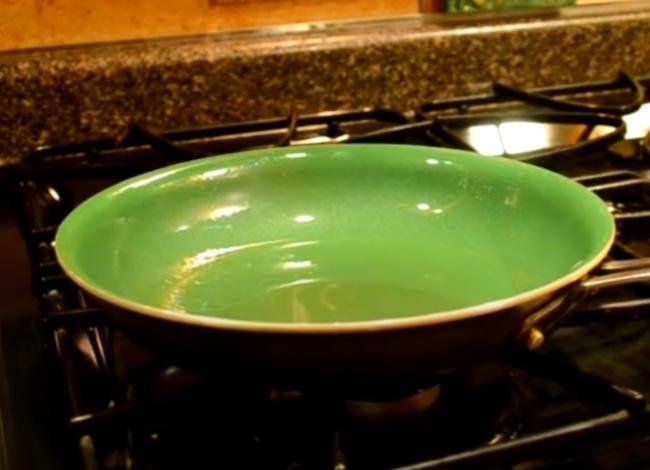 Step 05: Dry The Pan
When the frypan becomes cool naturally, take the next step to make the pan dry. Take a non-abrasive cloth or smooth tissue paper to wipe the pan surface and make it dry. You will feel your ceramic cookware getting greasy by touching it this time. But, it happens because of the oil reaction with the ceramic surface, which will be removed after some moments. But, rewashing it before cooking will be harmful as it happens randomly.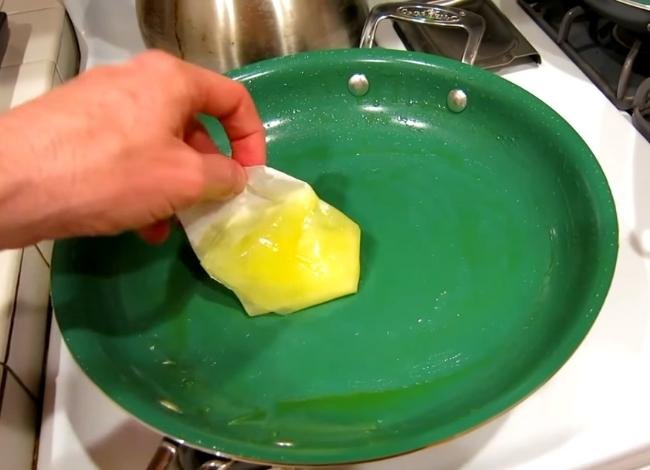 How to tell if the cookware needs seasoning?
Generally, the seasoning frequency of cookware is every six months. If you can season your nonstick cookware twice a year, you may get a perfect result. But, actually, the best result of seasoning frequently depends on how often you use your cookware. If you use it randomly, you should season it more quickly. There is a symptom of your cookware to understand that seasoning is an emergency. When fried foods randomly stick to your nonstick cookware, you realize that the cookware needs to be seasoned.
Why Do I Need to Season My Ceramic Cookware?
Seasoning is an essential part of taking care of your cookware. Sometimes the cookware becomes hotter because of more heat at the bottom. It causes the cookware surface to burn the food quickly. So, seasoning is a must for cookware after every use.
How Can I Take Care of My Ceramic Cookware?
Ceramic cookware is a comfortable choice for use in every kitchen. Although it is a less durable material than stainless steel, it can last longer with proper care. The following ways are appropriate to maintain your ceramic cookware's longevity.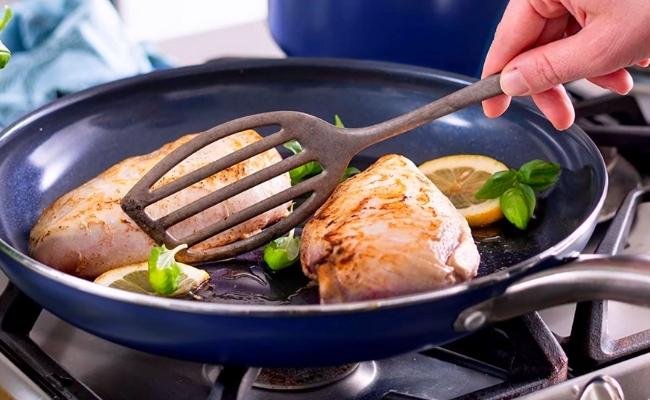 Wash with Hand and Avoid Dishwasher 
Some ceramic cookware brands write on the cookware manual that their utensils are dishwasher safe. But, sometimes, it is their marketing policy. Generally, a dishwasher is inappropriate for non-abrasive ceramic cookware. It is better to avoid the dishwasher because of its better cookware performance.
Use wooden, silicone, and plastic utensils.
Hard cooking utensils made of stainless steel or aluminum are unsuitable for ceramic cookware. They can scratch the cookware and damage it quickly. But plastic, silicon, and wooden utensils are free from these issues. The softness of the outside of this utensil is very friendly with ceramic cookware, making them long-lasting.
Simple cleaners or soaps are appropriate to keep your ceramic cookware beautiful in appearance. Do not try to wash it with any harsh chemicals. Otherwise, it will lose its beauty.
Olive oil has a moderate smoke point. It is harmful to ceramic cookware to maintain its longevity. Coconut oil, butter, and flavored spray are also prohibited. On the other hand, several alternatives are available, including avocado oil and canola oil.