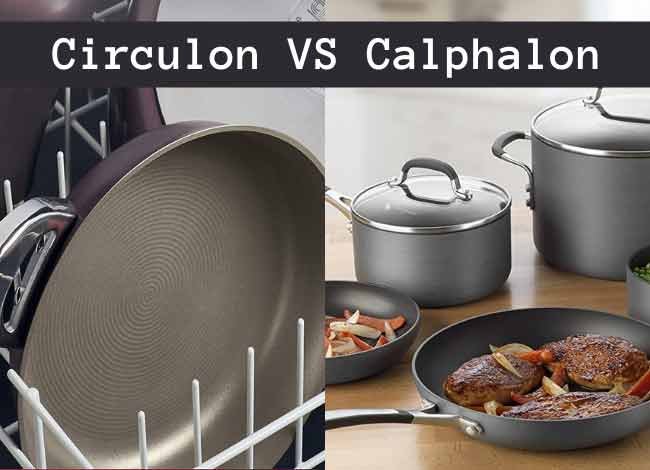 Among the best cookware brands, Circulon and Calphalon cannot go without being mentioned. These two brands provide some of the best and most reliable cookware on the market. It doesn't matter if it's for home or commercial use; you will find a cookware collection that meets your needs. Read this Circulon VS Calphalon Cookware to know more.
Picking the right cookware for your kitchen at home or restaurant is one of the most important things if you want to cook a variety of recipes to perfection. There is nothing like the best cookware as people's needs and demands vary. Some want induction-compatible cookware, while others want a superior non-stick surface. So let's have a quick comparison before making any decision between Calphalon and Circulon cookware.
Table showing a brief comparison of Circulon VS Calphalon
Features

Circulon

Calphalon

Construction
Hard anodized aluminum nonstick surface and stainless steel
aluminum hard anodized cookware
Oven safe
350ºF
500ºF
Pricing
Slightly Expensive
Expensive
Dishwasher safe
Yes
Yes
Handles
with a sure-grip silicone non-stick coating
Silicone
Nonstick
Yes (much better)
Yes
Warranty
Limited Lifetime
Lifetime warranty on some of its products and others a 10-year warranty
Price:
Check Price
My Choice
Check Price
And since there is no one-size-fits-all cookware, we'll compare Circulon and Calphalon to see which brand has the edge over the other. If you have been confused between Circulon and Calphalon brands, brace yourself and make an informed choice in the end.
Comparison Review: Circulon VS Calphalon Cookware 2022
What stands out between these two cookware brands is that they offer quality, durable, stylish, reliable, and versatile cookware sets.
About Circulon
Circulon is one of the most notable cookware brands on the market. If you search for the best cookware brands on the market, there is a high chance that you will come across Circulon cookware. This US brand has been in the industry for more than 25 years now. What made them famous was their unique innovation of coming up with a hard-anodized nonstick cookware set. Before Circulon introduced non-stick aluminum cookware, no brand had thought about it.
Related article: Major difference between Circulon and Anolon Cookware
Since aluminum has excellent Heating properties, combining it with non-stick surfaces led to pans and pots that heat quickly but don't stick food while cooking. Apart from having non-stick aluminum, their pans and pots also feature grooved rings that prevent binding food. This is also another outstanding innovation as you don't need to use oil. And together with the 3-layer non-stick surface, you get a sturdy and stick-free cooking surface.

Check Price
It is easier to identify Circulon cookware sets as they feature dome-shaped lids, and most of them come in gray color. However, some Circulon pots and pans have color options, such as Circulon Acclaim in black, Circulon Genesis in red, Circulon momentum, and Circulon Symmetry in chocolate & Merlot finishes.
Aside from this, Circulon cookware sets are dishwasher and oven safe. They can defy high temperatures of up to 350 degrees F. On top of that, they have handles that can withstand heat and offer comfort. With a lifetime warranty, this is a brand worth investing in.
Is Circulon cookware safe?
The main lineup of the Circulon is to prove the best buddy for your kitchen in your every cooking session. And the best nonstick cookware is incomplete if it's not healthy to cook. And they also keep their promise and ensure that the Circulon cookware is entirely safe and toxic-free. There is no harmful nonstick coating on the outer side of this cookware. They use PFOA free PTFE nonstick code to ensure its excellent quality with non-sticky characteristics. PFOA cookware is very dangerous for your health, and that's why Circulon makes every cookware without this harmful chemical.
Circulon Product Lineup:
The Circulon are popular for their great quality cookware in the market. The best kitchenware best of this Circulon is given below:
Circulon Elementum 10 piece nonstick cookware set with lids,

Circulon Elite 10 piece nonstick cookware set with  lids,

Circulon symmetry 8 pieces nonstick cookware set with utensils set,

Circulon Elementum 12 inches nonstick deep fry pan with lids,

Circulon Radiance 14 inches nonstick fry pan,

Circulon Radiance 2 pieces nonstick fry pan,

Circulon Radiance 3-quart nonstick straining saucepan.
Where is Circulon cookware made?
Circulon cookware is made in Australia.
About Calphalon
Calphalon is another top cookware brand with a variety of cookware to its name. If you've different tastes, then Calphalon is a brand worth checking out. Established in 1963, Calphalon is a producer of cookware, cutlery, bakeware, and home cook appliances. The company can be credited for coming up with hard-anodized aluminum cookware in 1968. Before Calphalon changed its name in 1992 year, it was referred to as Commercial Aluminum Cookware. Calphalon premier and Calphalon classic are two famous cookware models of this brand. But compared with T Fal, Calphalon is quite expensive.
Today, Calphalon has various cookware materials on offer, including infused anodized aluminum, copper, non-stick, stainless steel, and enamel cast iron. Also, you can choose full sets or pieces. The most popular Claphalon cookware collections are hard-anodized pans and pots as they heat and cool quickly. So, if you're not a professional chef or are just learning how to cook, these might not be the best cookware brand for you.

Check Price
The good news is that most of Calphalon's cookware will work on a variety of surfaces. Some like stainless steel will even work on induction cooktops. So, you're not limited to the types of surfaces that you can use to cook. Additionally, Calphalon creates durable and reliable cookware that is suitable for both professional chefs and home cooks.
Most of Calphalon's cookware collections come in either a polished or brushed finish. Aside from that, they have to stay cool with stainless steel handles that won't heat up for ease of handling during cooking. With all of these outstanding features, you can fathom why Calphalon is one of the most popular cookware brands on the market.
Calphalon Product Lineup: 
As I told you before, the Calphalon is a trendy and reliable name in the extensive food services and restaurants. Some of their most demanding product lists are given below:
Space-saving Hard-anodized nonstick 12-inch everyday pan with lid,

Space-saving Hard-anodized Nonstick cookware,10 piece set,

Space-saving Hard-anodized Nonstick 14 piece cookware and utensils set,

Calphalon premier 13 pieces nonstick set,

Hard anodized Nonstick 2 piece fry pan set,

Hard-Anodized Nonstick cookware 1.5-quart saucepan with cover,

Hard anodized Nonstick 12-inch square griddle.
Where is the Origin of the Calphalon cookware?
The Calphalon Cookware originated in Perrysburg, Ohio, in the USA.
Similarities between Circulon and Calphalon pots and pans
Before we find out how these two popular brands differ, it is crucial to find some of the features they share. These are as follows:
Construction
Both Circulon and Calphalon are durably constructed for durability. They are made from some of the best materials on the market. Circulon has hard-anodized aluminum and stainless steel cookware to select from; on the other hand, Calphalon has hard-anodized aluminum, stainless steel,premium-quality food release system, copper, and enameled cast iron. So both brands use hard anodized nonstick materials for better heat retention. Also, both brands Come with PTEF and PFOA-free surfaces. Expect nothing less than durable cookware if you buy from one of these two brands.
Related article: Should you buy a Lagostina Cookware in 2022?
Dishwasher safe
Some people are lazy or busy and have no time to hand wash their cookware pieces. If that's the case, both of these cookware collections will work for you. This is because they are dishwasher safe. Nonetheless, it is recommended that you hand wash them if you want to use them for over a long period.
Versatile
Do you have a gas, electric, halogen, ceramic, or induction stovetop? Worry not, as both of these cookware brands have cookware collections that will work on your type of stovetop. Simply find out the right cookware for your cooktop, and you're good to go. Stainless steel cookware works on all surfaces with induction included.
Tempered glass lids
What I like most about these two cookware brands is that they both feature tempered glass lids. These are convenient as they allow chefs to monitor food as it cooks. So, food won't overcook or undercook. Also, the glass lids lock in moisture and heat for the food to cook correctly.
A more extensive range of cookware pieces
Whether you want a full set or a few pics for your kitchen, you will get them from both of these brands. Most of the ceramic cookware brands like Tramontina, Starfrit The Rock, and Pioneer Woman Cookware offer between 10 to 14 pieces, but they also sell individual pans, pots, skillets, and much more.
Differences between Circulon and Calphalon cookware
The differences will help you to make a wise choice based on your needs and demands.
Design
Cuisinart and Calphlon offer beautiful cookware designs that will change the look of your kitchen. What's more, you can use the cookware to serve meals on the table straight from the oven. Even though both brands offer lovely products, Circulon has a variety of finishes to choose from, while most of Calphalon's cookware comes in a black or gray finish.
Oven safe
Circulon cookware collections are oven safe up to 350 degrees F, while Calphalon cookware is oven safe to 500 degrees Fahrenheit. It is crucial for cooks who love to finish their cooking in the oven.
Related article: How to choose between Calphalon Vs Cuisinart cookware? 
Non-stick surface
Despite both of these brands featuring non-stick surfaces, Circulon's non-stick cookware is better than Calphalon's nonstick cookware set. Circulon has a unique 3-layer non-stick surface with grooved rings to prevent food from sticking.
Materials
These two cookware brands are durable, with some of the best materials. If you want reliable and sustainable materials, you may consider going with Calphalon as it offers a variety of materials. For instance, its stainless steel cookware has aluminum in its core for delivering even heat distribution.
Price
So Calphalon vs Circulon: which one offers a better price? The price shouldn't be a huge factor when choosing between these two, as there is a slight difference. Circulon provides slightly expensive entry-level cookware sets and affordable high-end, while Calphalon produces expensive high-end cookware products and cheaper entry-level cookware. So budget shoppers should buy Farberware over Calphalon cookware.
Warranty
Whether you decide to invest in Calphalon or Circulon, you can be guaranteed that you will be covered under their warranty. Circulon offers the best warranty as they provide cover for life, while Calphalon gives life protection for some cookware and others a 10-year warranty.
Circulon Or Calphalon? Which cookware to choose?
Whether you decide to pick Circulon or Calphalon, you will not be disappointed by any of the brands. The two are some of the best cookware brands with exceptional cookware to offer. If you're looking for durable cookware, these two are worth investing in. Unless you want a specific material to choose from, then you can opt for Calphalon. Nevertheless, Circulon has aluminum and stainless steel to choose from.
When it comes to design, both brands stand out, depending on your taste and style. Circulon and Calphalon offer ergonomic designs that will match with other kitchen utensils. You will also comfortably use them as they have comfortable stainless steel handles and glass lids for covering food.
For those who prefer a quality non-stick cooking surface, then Circulon is the best option. This is because its nonstick coating is durable and easy to use when compared to Calphalon. When it comes to cleaning the cookware, both of these brands provide safe dishwasher cookware, which means cleaning is simple. Regardless, hand washing is recommended for those who want to prolong the lifespan of their cookware.
Final Thoughts
Depending on your needs, taste, and budget, you will find that both of these cookware brands are worth investing in. They are durably constructed, comfortable to handle, easy to clean, stylish, and oven safe. What's more, they are compatible with a variety of cookware surfaces.
Take your time and choose a cookware collection that you desire. Don't just spend your money anyhow without considering several things. Likewise, check the pros and cons before making your final choice. Circulon and Calphalon have established brands that you can proudly buy from. So, whether you're a professional chef or a home cook, you will find a cookware set that you will love using to prepare delicious meals. I hope that this Circulon VS Calphalon Cookware comparison has given you a clear idea about these brands.
FAQ
Are Circulon and Calphalon cookware safe to use?
Answer: Yes, they are. Both Circulon and Calphalon are safe to use as they don't contain toxic chemicals such as PFOA, lead, and cadmium. PFOA was banned, and no company uses it to create cookware sets in the country. Nonetheless, both cookware has PTFE in their composition. This is not harmful and won't have any effect on your cooking. However, you should not overheat the pots and pans, as this will weaken the non-stick surface.
What should I consider when buying cookware?
Answer: There are many things you've to consider if you want to land the best cookware. These include heat conduction, durability, reactiveness, ease of maintenance, and price. Aluminum and copper conduct heat better than stainless steel and carbon. Stainless steel is more durable than aluminum and iron. Some materials like aluminum and copper react with food, while stainless steel doesn't. Ceramic cookware is also safe to use. Always consider the number of people that you will be cooking the food for before buying individual cookware pieces. Last but not least, non-stick surfaces make cooking healthy and clean easy.
Do Cuisinart and Calphalon offer a warranty?
Answer: Through our Calphalon vs Circulon article, you already know that both brands offer a warranty. However, their warranties vary as Cuisinart provides a lifetime warranty to all of their cookware products, while Cuisinart offers a lifetime warranty to some products and a 10-year warranty to others. The best part is that you will get a guarantee from both brands. The warranty covers faults in material and workmanship from the date of purchase. So, if you notice an issue with their products, you can return them for repair or replacement.
Still have questions after reading this Circulon VS Calphalon Cookware? Comment below.