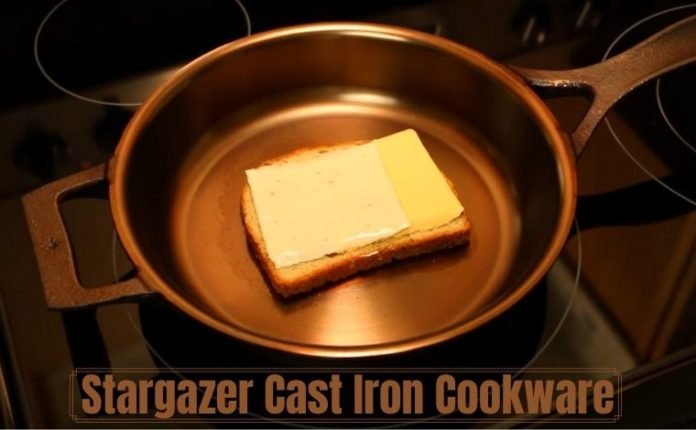 Are you lost in the kitchen gadget aisle at the market? Don't know about them and also their brand? But do you need cast-iron cookware for your daily cooking? Then I think I have a great solution. Stargazer is one of the most popular brands of cast-iron cookware nowadays. They are well known for their durability and versatile design at an affordable price. That means this brand of tableware not only helps you with your daily breakfast but also makes your kitchen trendy. Now take a look at their quality, history, etc.
Quick Overview on Stargazer Cast Iron Cookware:
Long-lasting cooler handle during cooking
History and motto of Stargazer cookware brand:
Stargazer was founded in 2015 in the USA. That's why all of their products are made in the US. Peter Huntley is the owner of this company. At first, he designed cookware for many other companies. But he was not satisfied with this—that is why Peter started his brand stargazer only for cookware. The Product of this company is very good with a great design and affordable price.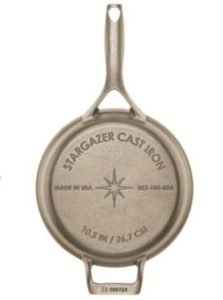 The main motto of the Stargazer is premium cookware for every kitchen. Not only this, the cookware should be easy to clean and safe to use. The exciting part of this brand is that customers can buy any product from them without any middleman—that is why you don't need to pay extra money for that.
Material Stargazer used for their Product:
The primary material of their every cookware is cast iron. You must know about the cast iron cooking appliance. Cast iron is an iron alloy that contains 2-4% of carbon and various amounts of silicon and manganese. This metal also has some impurities mixed like sulfur and phosphorus. Let's see the cast iron used in the cookware:
In-Depth Stargazer Cast-Iron Cookware Review
Many people think that cast iron cookware is very tough to maintain. That's why people are afraid to buy it. But believe me, it's just a myth. Cast iron utensils are hard as a rock. And you don't need to take care of the rock like a baby. It quickly heats up and, of course, stores the heat for a long time. I know it's a bit heavier than the everyday cookware. There are tons of merits of this cast iron cookware.
Benefits of using Stargazer Cookware:
Durable:

As I told you before, a cast iron pan is like a rock. That means you can easily use it for a decade. It's tough to destroy or make the cast iron pan.
Non Reactive:

Cast iron pans are nonreactive to any other food. That's why you can easily use it for every recipe without any problems.
Nonstick:

Yes, cast iron pans are naturally nonstick without an exterior coat. You need to preheat the pan properly. Then I worked just like a nonstick pan.
Healthy:

Many people don't know about the healthy part of cast iron cookware. At first, it's nonstick without any Teflon or other external coat. That means you can easily use any spoon for cooking. On the other hand, much research shows that the most acidic food you cook in the cast iron pan increases the iron level. Iron is one of the essential portions of our body. So cooking cast iron makes the food healthy and safe from any non-sticky chemical.
Perfect for every dish: you can cook anything in this pan. That means from breakfast to dinner, from frying to sauté, you use this pan efficiently. You don't need to worry about the color, taste like hard anodized cookware, or think about safety like a nonstick pan. You just throw the pan into the stove and cook your meal without any tension.
Multiple usages: 

Cast iron pan can be used everywhere. That means this pan is not only for your kitchen stove or oven. You can use this in your camping time. That means these are easily usable in any outdoor cooking session. The handle is also made with iron; that's why you don't need to worry about melting down.
These are the advantages of the cast iron pan. But there are also some disadvantages you face when using this cookware. Like:
What are the drawbacks?
Weight:

A solid iron pan is durable. You knew about that. That's why it also has some extra weight. This pan sometimes is hard to handle and disturbs your daily life.
Time-consuming:

From regular cookware, cast iron is thick and heavy. That's why it needs some extra time to heat up properly. That's also time-consuming if you are in a rush.
Hot handle:

All cast iron handles are built with the cookware. That means the total handle is made with iron. So after cooking for some time, the handle got hot; this is when it's tough to handle.
Hard for tiles:

This cast iron pan or other cookware is hefty. So if you drop this pan accidentally, it can break your floor tiles.
These are the main problems you face when using the cast iron utensil. You also meet some issues without this, like you can't coil water or acidic food in a bare cast iron pan, re-seasoning the cookware, etc. But these are mainly some maintenance processes. If you follow this, it just higher the rate of a lifetime.
Why should you buy Stargazer pots and pans?
The product quality of Stargazer is unquestionable. Because they used high-quality cast iron for every Product. Let's see the quality of every stargazer product: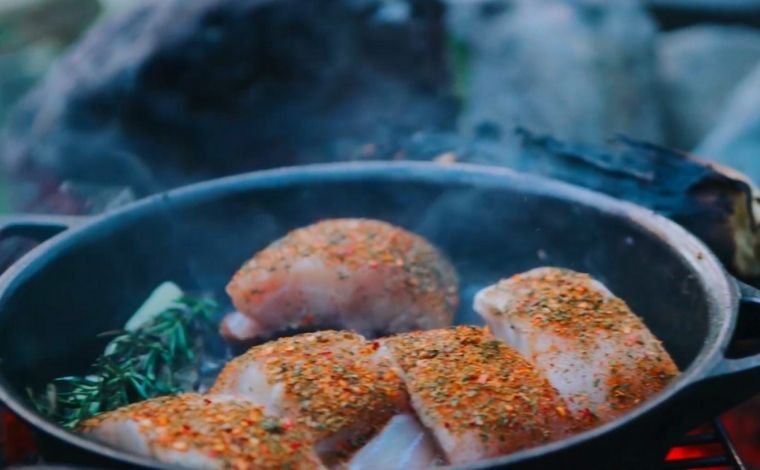 Longevity:

As you know, cast iron cookware is famous for its durability. Just like that, when you buy a pure, high-quality cast iron pan, then think about the durability? Yes, you can use it longer than the regular pan.

Smooth surface:

The stargazer cookware's specialty is its smooth upper and bottom surface. That ensures a nonstick and also easy to clean surface.

Environment Friendly:

Yes. The Stargazer used recycled sand and recycled cardboard for their cookware. That's why they reduce pollution. 

Direct to the customer:

you can easily buy their cookware from their website. There is no middle man involved in this process. That means you can purchase any cookware directly from their company. So you don't need to worry about the product quality and save money.

Easy clean:

The smooth interior of the Stargazer cookware allows easy cleaning. After cooking, wash the pan in running warm water, wipe it, and be done. And you also find drip-free flared rims instead of the traditional ones. That also makes it easy to clean and saves some extra time for you.

Heating Capability:

This cookware's heating capacity is like slandered cast iron cookware. But the bottom surface of the utensils is flat and smooth so that you can easily use the outdoors and stove.

Safe Handle:

During the cooking time, safety is one of the essential parts. The handle of the Stargazer makes it very stay cool for a long time when you are cooking on the stove

Lightweight:

From regular cast iron utensils, Stargazer cookware is lighter. When you use the more lightweight skillets, you can easily take control of your food, and are easy to handle.

Stylish look:

I must say the Stargazer gives their best effort in each Product. That's why the cookware is only helpful for you and it also gives a trendy look into your kitchen.
Reviews of two cookware models from Stargazer:
Some of the famous Products of the Stargazer are discussed here: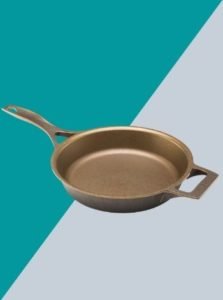 10.5 inch cast iron skillet: If you need to cook for two-person, these size skillets are perfect for you. The weight is also very light, only 5.6 pounds. The long cool handle is also straightforward to use. Like other utensils of the Stargazer, these skillets are also non-sticky. And this American cookware is beneficial for a small family. You can also find seasonal and bare skillets available in this design. If you have a large family and need a larger size than 10.5, go for their 12.5-inch skillets.  
13.5 inch cast iron Braiser(upcoming):

They launched a 13.5 inches braiser perfect for your oven roasting, shallow frying, etc. The main feature of this cookware is its wide bottom with shallow sloped sides. You got two short handles with this pan. You can also find seasonal and bare Braiser in these two versions. This cookware is also perfect for occasion cooking.
Bottom line
The Stargazer is a famous type of USA-made cast iron cookware. There are plenty of options for your everyday cooking session. There is also a 13.5-inch size Braiser in the upcoming project. I think that will be your future occasional cookware. These skillets are not only versatile but also very affordable. For its popularity, you can also get an idea about its quality. And I think you won't regret this.
FAQs:
Does the Stargazer come with a warranty?
Yes. This cast iron is made with the best quality cast iron. It provides you with a lifetime warranty if you store it properly.
Is Stargazer dishwashable?
No. This product is not dishwasher-friendly like Greenlife cookware.
Is the cookware of the Stargazer oven safe?
Yes, this cookware is oven friendly. You can get quickly through the skillets in the oven.
Is the cast iron of Stargazer safe?
The seasonal Stargazer is seasoned with oil. But this is GMO-free, and no animal product is used in it.