You may have several collections of beautiful pots and pans in your kitchen. However, it is unfortunate that many beautiful pans, including ceramic cookware, are less durable. They have an attractive outlook but are easily breakable. But one thing that can save fragile cookware sets is a cookware protector.
What is a cookware protector?
There are cookware protectors and cushions available on the market. Using the protectors, you can keep more than two pots and pans at a time. A cookware protector is a piece of equipment for saving the cookware surface from rust and corrosion. It would be best to keep the protector between the two pans while storing them one after another. The cookware protector should be soft. Otherwise, it could damage the bottom surface of the pans. Cushioned polyester felt or silicone is the best material for the protector. It provides a soft surface that keeps the pots on the two sides safe.
What is the Use of Cookware Protectors?
The protectors are now essential for the pans prone to rust. Cast iron, stainless steel cookware, etc., are made with durable materials. But, cookware with a ceramic coating or regular aluminum base (not cast aluminum) is fragile. Any unintentional abrasion can cause their coatings to deteriorate. So, every cookware user should buy pan protectors to save pan outlooks and use the pots and pans for a long time.
Most durable pots and pans are costly. Cast iron cookware lasts long and does not rust or corrode quickly. However, it is not affordable for less capable users. On the other hand, some cookware (e.g., aluminum) is inexpensive but not long-lasting.
A cookware protector will solve the problem. It is so low in cost that it is affordable for every buyer. Moreover, you can save the pans from rusting by using a simple protector of less than $5.
Is a cookware protector washable?
Everything should be kept clean because it looks fantastic and new. A cookware protector is an easily washable item. You can make it beautiful by removing dust from its outside surface after every wash. But how to clean a cookware protector? Take a small cloth and soak it with some water. Now wipe your cookware protector with the damp cloth. Some curious people may ask if they can wash the cookware protectors in a dishwasher or washing machine. But, it is a matter of sorrow that a cookware protector is not a safe dishwasher or washing machine. But, using water is enough for a good cleaning.
Our recommended cookware protectors from popular brands
Cookware protectors are essential equipment to increase the durability of pans by removing the possibility of corrosion. The number of its users is increasing gradually. So here is a list of some good pan protectors.
All-Clad Textiles Cookware Protectors
All-Clad is a famous cookware brand. Their patented cookware protectors are also unique, like their pots and pans. All-Clad's Textiles 3-piece cookware protector set is made of polyester. The material is suitable for use for a long time.
But it would be best if you washed the cookware protector with your hands using water. If you continue the cleaning process, you may have the polyester protector looking beautiful for a long time.
Features:
All-Clad cookware protectors are handy.

The protectors are secured. They can easily keep your pans safe from rust.

These cookware protectors are suitable for a perfect fit. You can safely keep your 4 to 6-quart cookware sets no higher than 14 inches (35 cm).

They are stiff, but their solidity does not cause less flexibility.
How much are the pot and pan protectors?
Generally, the purchase price of the pan protectors is low. They are available for $10 to $25 on the market, depending on their quality.
Range Kleen 3-piece pots and pans protectors
These protectors are attractive because of their colorful appearance. The following attractive features of Range Kleen cookware protectors can amaze any customer.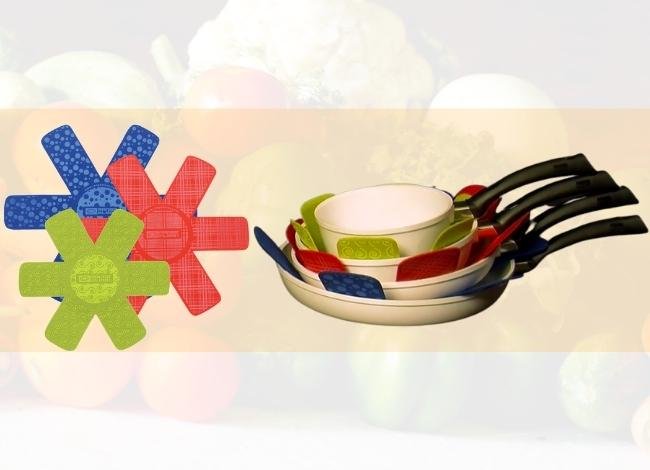 Various colors and an attractive outlook are the first impressions of Range Kleen.

They are heavy-duty cookware guards.

The three pieces of the cookware guard set provide you with a one-year warranty.

Range Kleen's outstanding performance is excellent value for money.
Sizes:
Range Kleen has available cookware protectors in different sizes. The three-piece protector set has a 14-inch Lime Squeeze, a 16-inch Pomegranate Burst, and an 18-inch Bella Sapphire.